Welcome to Uno MaS Studio
Located in Brentwood, TN, Uno Mas Studio is a fantastic space for your next project.
The studio space is 1100 square feet and has 3 iso booths, a Pork Pie drum kit, a Behringer 16 channel headphone system, and a Hammond C-3 organ with a 122 Leslie. We have an extensive mic selection as well.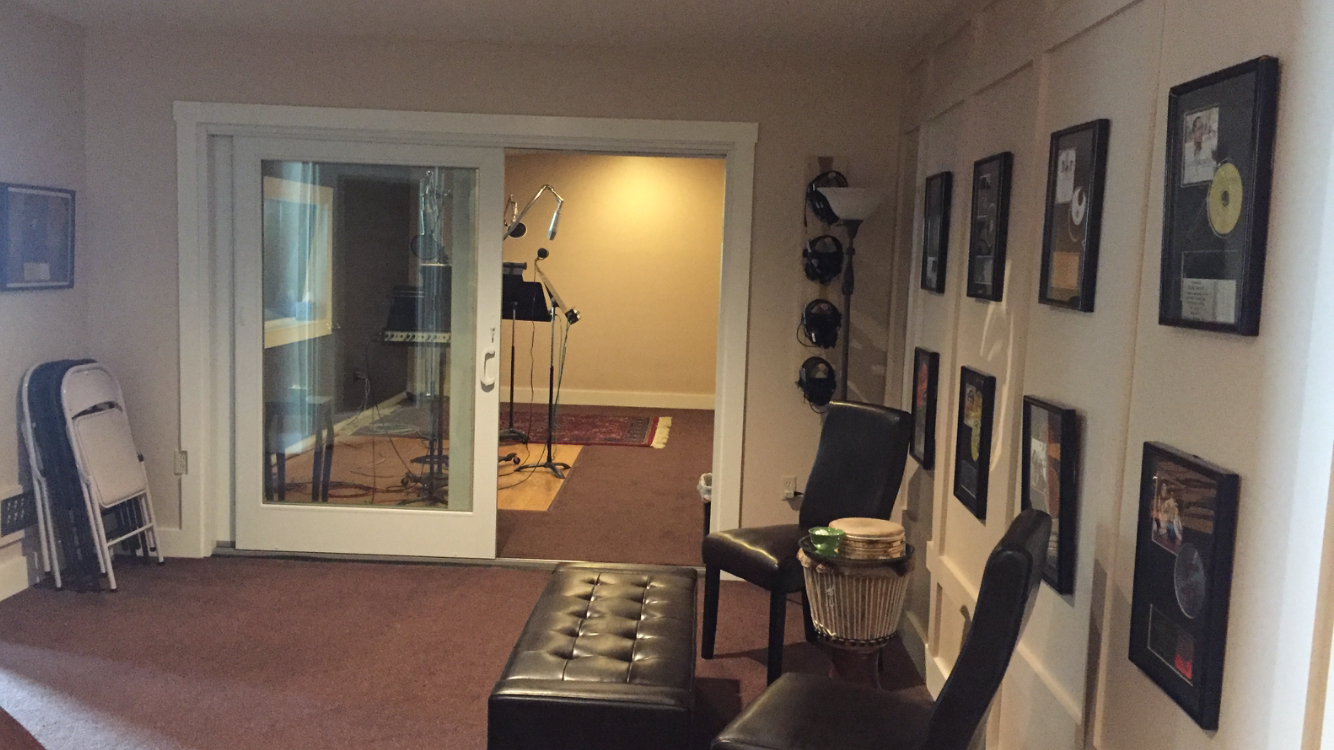 Doug Sarrett is a Nashville-based Independent Audio Engineer. He came to Nashville to attend Belmont University and has worked steadily in Nashville recording studios since graduation. He has recorded with many artists and songwriters, some of which are listed below.
Doug is also owner of Uno Mas Studio in Brentwood, TN.
He is married to Eve and they have two children, Camden and McCall.
A brief list of some of the artists Doug has worked with:
U2
Paul McCartney
Bruce Springsteen
One Republic
Jonas Brothers
Samsung Phones
Vince Gill
Miley Cyrus
Micheal McDonald
Walt Disney Corp.
Glen Campbell
Micheal W. Smith
Christopher Cross
Amy Grant
Colbie Caillat
Switchfoot
Danny Gokey
Rich Mullins
Jars Of Clay
Jeremy Camp
Shirley Ceasar
Jennifer Holliday
Kirk Franklin
Smokie Norful
Point Of Grace
Michelle Tumes
Bob Carlisle
Marcos Witt
Mandisa
CeCe Winans
Tim Akers and The Smoking Section
Toby Mac
John Michael Talbot
Gary Chapman
Smoky Mt. Hymns
Don Moen
Marcus Hummon
Bryan Duncan
Steve Green
Sandi Patty
Petra
White Heart
Smoky Mountain Hymns
Eaglemaniacs
Larry Gatlin
The Gatlin Brothers
Pam Tillis
Tanya Tucker
Paul Overstreet
Kix Brooks
The Oak Ridge Boys
Jay Demarcus (of Rascal Flatts)
Shirley Jones (Mom Partridge)
Brooklyn Tabernacle Choir
Larnelle Harris
33 Miles
4 Him
Andre' Couch Tribute record
Gaither Vocal Band
NFL Carolina Panthers
Jacqueline Pettrocia
FFH
Denver and the Mile High Orchestra
Western Flyer
ATF - US Govt.
US Air Force Hot Band
Mix for the POTUS in the East Room of the White House
Gear
Microphones
- AKG 414B-ULS
- AKG C-12
- AKG 451w/20db pad (x2)
- AKG D-1000 (x6)
- AKG D-112
- Audio Technica 4047 (x2)
- Audio Technica 4033 (x2)
- Audio Technica ATM 450 (x2)
- Geffell UM70S (x2)
- Manley Gold Reference Tube
- Neumann U87 (x2)
- Neumann 84 (x2)
- Neumann U-47
- Neumann FET 47
- Neumann KM54 (x2)
- Royer 121 (X2)
- Sanken CU-41 (X2)
- Schoeps CMC5-U (X4)
- Sennheiser 421U (X4)
- Shure 55S
- Shure SM-57 (X4)
- Shure SM-58 (X2)
- Shure SM-81 (X4)
- Sony ECM 50
Monitoring
- Carl Tatz Phantom Focus System with Tannoy Super Golds
Digital
- Trashcan Mac, Pro Tools Ultimate with Avid I/O (32 in, 40 out)
- Plugins: UAD Ultimate, Slate, Massey, Soundtoys, Waves, etc.
Outboard
- Aphex 3 band equalizer (x11)
- Aphex CX-1 compressor (x4)
- API 312 mic preamp (x4)
- API 512 B mic preamp (x4)
- API 560-B graphic equalizer (x2)
- DBX 160 limiter (x2)
- Empirical Labs EL8 Distressor (x2)
- Focusrite ISA 110 (x2)
- GML 8304 4-channel mic preamp
- GML 8200 EQ
- GML 8900 Compressor
- Inward Connections Vac-Rac tube limiter (x4)
- MAAG equalizer PR-EQ4-500 (x2)
- Millenia HV-35 preamp
- Neve 1073 pre-amplifer/equalizer (x4)
- Neve 1081 pre-amplifier/equalizer (x2)
- Purple Audio MC77 tube limiter (x2)
- Shadow Hills Mono GAMA preamp (x2)
- Teletronics LA-2A tube limiter/compressor
- Teletronics LA-3A tube limiter/compressor (x2)
- TubeTech CL1B tube limiter
Tape Transfer
If you need previous projects transferred, we have practically every format made! (If we don't have it, we know someone in Nashville who does). Onsite, we have an Otari MTR 90 III 24 track analog machine, a Sony 48 track machine, several ADAT 8 channel machines, and several DA-88's as well. We also have Otari 1/4" and 1/2" tape machines, several DAT machines, and a Tascam cassette machine. We also have a convection oven to bake analog tape in before transfer. All transfers are into Protools as .wav files, with a rough mix of the content included.
Contact
Get in touch with Doug!